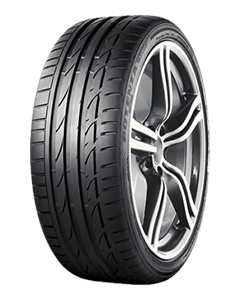 215/40R17 BST S001 87YXL AO
Redefine the limits of power and control with the all-new Bridgestone Potenza S001. Formula 1 precision meets superior traction and manoeuverability in Bridgestone's latest ultra-high performance tyre.

Developed and tested in motorsport's toughest arena, the Bridgestone Potenza S001 lets you unleash the full potential of your high-performance vehicle with guaranteed comfort and safety. Rediscover the passion of driving with Bridgestone.
Features
Advanced asymmetric tread pattern for outstanding sports performance in wet and dry conditions
Super slant grooves for rapid evacuation of water and high traction stability on wet surfaces
High-grip shoulder blocks for optimum road holding, high braking force and maximum cornering grip
There are 82 reviews for Potenza S001
Overall rating
25/10/2020

MERCEDES C CLASS
25/03/2020

VOLKSWAGEN GOLF
25/03/2020

VOLKSWAGEN GOLF
22/12/2019

AUDI A3 S LINE TDI
01/12/2019

BMW Z4 SDRIVE30I
11/11/2019

AUDI A1 S LINE TFSI S-A
31/10/2019

BMW 116D SPORT AUTO
20/03/2021

VOLKSWAGEN GOLF
25/08/2020

VOLKSWAGEN GOLF
20/05/2021

RENAULT MEGANE RENAULTSPORT TROPHY A
28/05/2021

VOLKSWAGEN GOLF GTD TDI
20/05/2020

MERCEDES C CLASS
26/06/2021

VOLKSWAGEN GOLF SV GT TDI
01/05/2020

MERCEDES C CLASS
01/04/2020

VOLKSWAGEN GOLF
03/01/2022

BMW 420D GRAN COUPE M SPORT AUTO